Superb wireless access available throughout the venue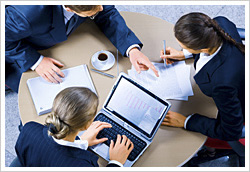 Hotel Granvia Kyoto expands its IEEE 802.11a/b/g/n/ac wireless network to all guest rooms, conference rooms, and restaurant common areas.
Wireless Internet access
In 2009, Hotel Granvia Kyoto deployed a wireless LAN system to provide wireless service in the hotel's
13 function & conference rooms, as well as the hotel lobby and restaurant common areas.
We have now completed our service commitment to meet the growing demands of our guests for cutting-edge technology associated with the widespread use of smartphones and tablet devices.
Thus, we are very pleased to announce that the wireless network system is now available throughout our hotel facilities, including guest rooms, to satisfy those needs.
As the first hotel in Kyoto to offer complimentary wireless service in all guestrooms, banquet rooms, conference rooms, and common areas including the hotel lobby and select restaurants, staying guests, restaurant patrons, and banquet/conference attendees are now entitled to the use of wireless service free of charge.
Meru Networks (based in Sunnyvale, California, USA), the industry leader of wireless infrastructure solutions and our technology and security provider, worked tirelessly with our system installation contractor, Kyowa Technologies, to create an environment which ensures a seamless user experience with no dropped connections when moving from one location of the hotel to another, and advanced high security features enable safe and secure use at all times.
For all inquiries regarding this release, please contact:
Overseas Marketing, Hotel Granvia Kyoto - E-mail: osm@granvia-kyoto.co.jp
* Telecommunications standard IEEE 802.11a/b/g/n/ac is an IEEE standard that was established for local area networks. In March 2006, IEEE802.11n draft version 1.0 was formulated and the IEEE802.11n draft version 2.0 was formulated in June 2007. It has since been accredited as the official standard for high-speed wireless LAN (WLAN) for the next generation (maximum transmission rate: 300Mbps).